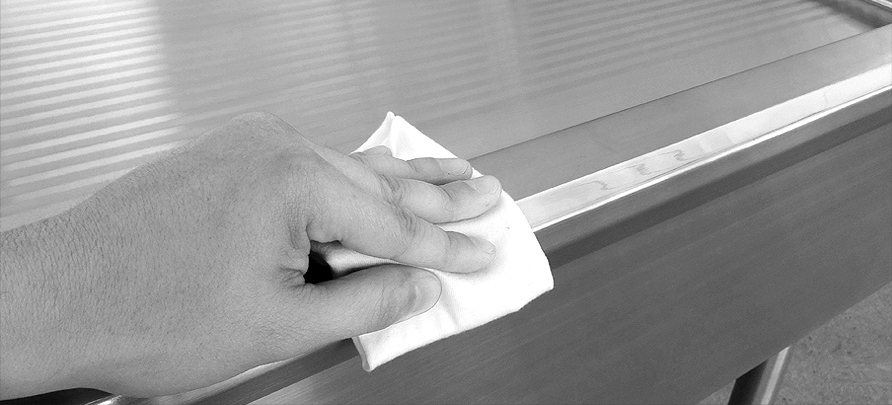 Cleaning and Maintaining your Stainless Steel
For cleaning stainless steel apply warm water to a damp sponge and a little liquid dishwashing soap and wipe, make sure to follow the direction of the grain. Rinse thoroughly and dry immediately. For fingerprints, wipe with a little vinegar, then rinse and dry. For baked-on stains, use a nylon scrubby or rub in a paste of baking soda and liquid dish soap then rinse and dry thoroughly afterward.
 
Many cleaning products can scratch or damage stainless finishes. Avoid steel wool and abrasive cleansers and pads. Never use bleach. Hard water can leave deposits that spot and stain, so always dry the surface immediately. There are many stainless cleaners and polishes on the market. But before using any cleanser, check your owner's manual. Even if the manual says a product is okay to use, first test it on an inconspicuous place. A quick note below:
Clean using a wet cloth and mild detergent
Avoid chlorine
Wipe in the direction of the grain
Never use rough sponges
Use baking soda for tough grease that is baked on
Wipe up spills immediately
Use glass cleaner to remove fingerprints
Rinse the surface after cleaning
Dry immediately
Stainless Steel Quality
Many manufacturers use lower quality grade stainless steel without informing their customers. Lower nickel content can cause the stainless steel to become more susceptible to corrosion. Intern the higher the nickel content the more resilient it will be to corrosion.
Our products are manufactured using 304 stainless steel, also known as 18/8 and A2 stainless steel outside the United States. We also use 316 stainless steel, also known as 18/10 and A4 stainless steel outside the United States, the latter being a marine grade. Both are non-magnetic and used primarily for their increased resistance to corrosion.
One last note a way that you can check the quality of the stainless steel is by placing a magnet on the metal. If it sticks then it has less nickel, which will make it more susceptible to corrosion.
For more information regarding stainless steel care, please click on the link below.


Stainless Steel Equipment Care and Cleaning guide